Digital rockwell hardness tester RMT series
A pioneer of digital Rockwell hardness tester
Rockwell hardness tester of Matsuzawa continues pursuing usability
anyone can easily operate Rockwell hardness tester of Matsuzawa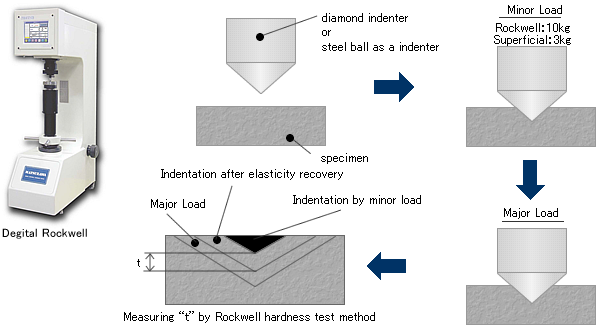 Color LCD touch Panel

Loaded with a Color LCD display with backlight. The ahrdness tester secure very clear and high visibility.

Auto Start

After setting the reference load, the test load is applied automatically.
The manual start is also possible.
Easy Setting

Reference load can be easily set with a bar graph display on the bright
screen and eletronic sound More over, an error-preventing device is also mounted.

Plastic Measuring System
specific measuring method for plastic in compliance with ASTM and JIS activated by one-touch easy operation.
Time for reading the value the after unloading the test load can be set freely.
Various Data processing Functions
It makes acceptance and rejection judgement, conversion to other tabulation and computing for data memory(999 data), maximum value, variation, average, standard deviation etc.
Applicable to CE and Safty
Safty design applicable to EU low voltage command, EMC command and machine command, In addition to high-rigidity body.
Overtum-preventive metal rittings are attached as standard to prevent overtuning by earthquakes etc.
Traditional Dial Change-Over System
Dial changeover systems make change the test load easily by turning the dial. Accordingly the design is dust-proof including the weights for test load.
Display DEPTH
You can easily confirm depth on a measuring mode display.